Those of us who live in the Desert Southwest know how lucky we are. Those of us who live in New Mexico, "Land of Enchantment," know that more people come here to vacation and to ski than actually live here. They come not only for the recreation, but for the clear blue skies and brilliance and intensity of the light. You will see colors here like nowhere else.
Look at the sky at sunrise on Christmas Eve 2006. This is not unusual here; this is very typical of sunrises and sunsets in the Desert Southwest (does this remind you of a Wilson Hurley painting?).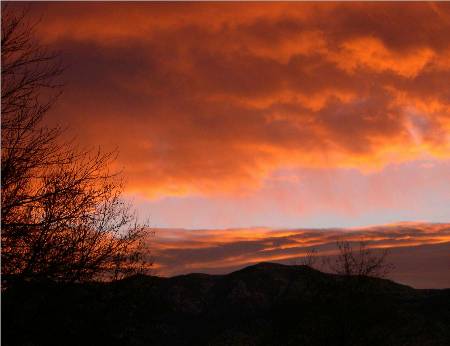 While the natural landscape is gorgeous, some of us do like to do a little gardening to grow some of our favorite plants, a decision that is not without some controversy. Some of those controversies will be discussed here over time.
Nature itself can be pretty cooperative for the most part, and if the plants are watered and fed appropriately can do quite well here. But every now and then Nature can toss a real ringer at gardeners here.
The winter of 2006-2007 will be remembered for a long time as "The Winter of the Big Snow" here in Albuquerque. Gardeners here usually do not have to do much to "winterize" their roses, because winters just aren't that severe. While this winter was not cold, Albuquerque had two major snows in December. The first left "only" 8 inches in my yard, while the second left 20 inches, the most I have seen since moving here in 1985. These snows did some major damage.
This is a hybrid bracteata, "Mermaid," an old garden rose introduced in 1918, the year my father was born. It climbs, grows rapidly, and is essentially disease- and pest-free here. It was one my favorite roses in my garden.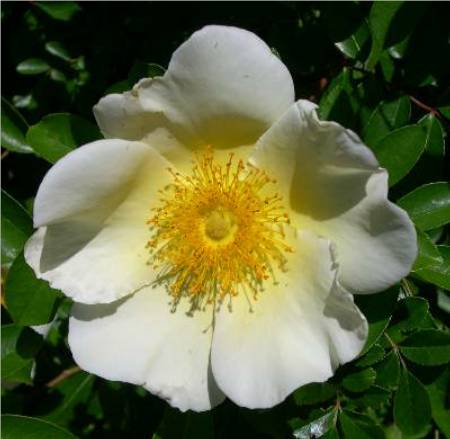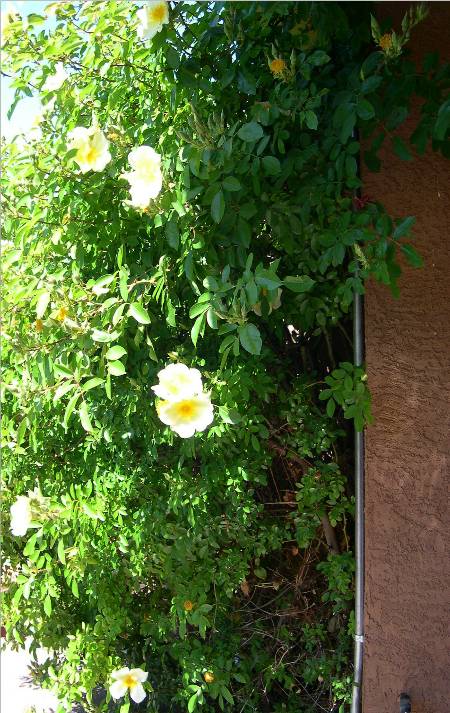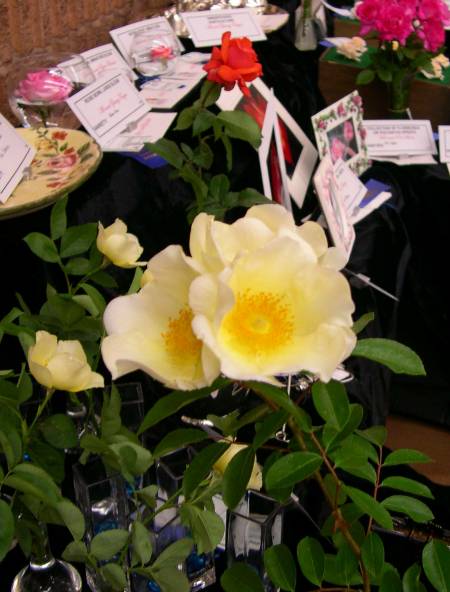 Victorian Award and Best Horticultural Entry, Albuquerque Rose Show, May 2006
In the first snow of December 2006, the one in which I got "only" 8 inches of snow, in the middle of the night I was awakened by a very loud noise, like something being ripped off a wall. Guess what? The weight of that snow on Mermaid actually did rip Mermaid and the trellis on which it was growing off the wall.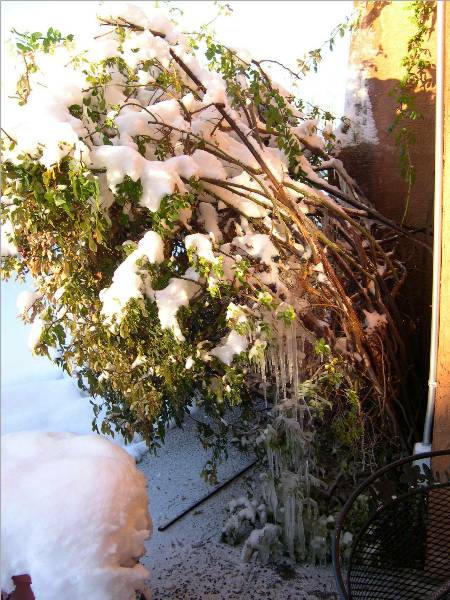 For a variety of reasons I was unable to get that little problem fixed right away. After all, there would be plenty of time, and surely we would not have another snow like that for some time, right? Wrong! Just a week later we got the huge, gigantic, 50-year storm, with the 20 inches at my house. In the middle of the night there was an even louder sound of something being ripped away. I did not want to go see what it was. Morning came soon enough. Mermaid was totally down and lying completely across the patio! I could not even get past it to get to the rest of my back yard. What a mess! Who would have believed it could happen in Albuquerque?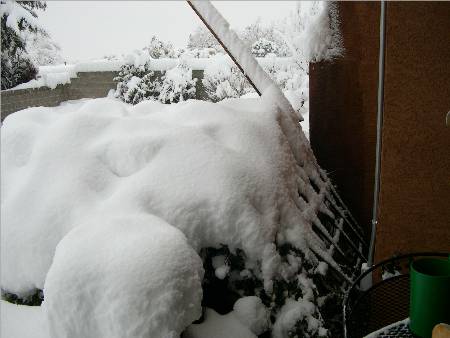 I knew how bad it was even before the snow melted and I could see it all.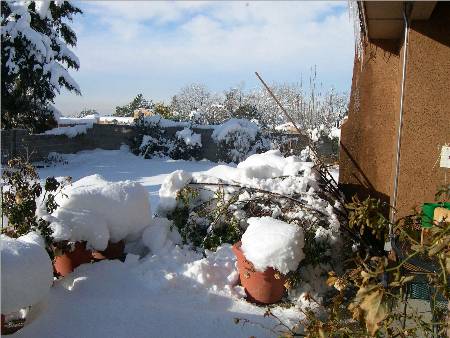 In early March I finally got the Mermaid mess cleared. She had to be cut off at the ground. It was sad, she was such a grand rose. I do think she will come back, but not fully for at least a year. And maybe not at all. If she does come back, what will I do to protect her in coming winters to prevent something like this from happening again? I do not yet know, but I'm going to be giving it a lot of thought as I begin the cleanup of broken canes, etc. on the other roses in my yard. And I'm also going to hope we don't see another snow like that again as long as I'm growing roses in Albuquerque!
That was not fun. But gardening here in the Southwest usually is, and that is what this site will mainly be about.
Welcome, please feel free to leave comments either on the site or by using the Contact Form, and visit often.