Those of us who live in the Desert Southwest know how lucky we are. Those of us who live in New Mexico, "Land of Enchantment," know that more people come here to vacation and to ski than actually live here. They come not only for the recreation, but for the clear blue skies and brilliance and intensity of the light. You will see colors here like nowhere else.
Look at the sky at sunrise on Christmas Eve 2006. This is not unusual here; this is very typical of sunrises and sunsets in the Desert Southwest (does this remind you of a Wilson Hurley painting?).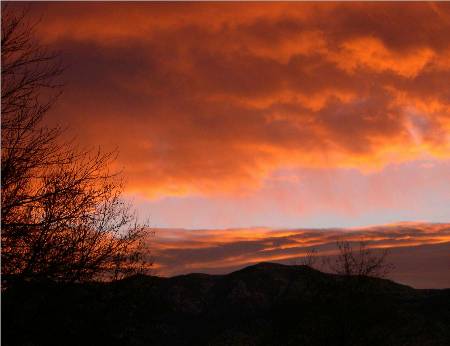 While the natural landscape is gorgeous, some of us do like to do a little gardening to grow some of our favorite plants, a decision that is not without some controversy. Some of those controversies will be discussed here over time.
Nature itself can be pretty cooperative for the most part, and if the plants are watered and fed appropriately can do quite well here. But every now and then Nature can toss a real ringer at gardeners here. Continue reading →