While many rose growers consider the rose to be "Queen of the Garden," roses don't bloom constantly and many are kind of bare at the bottom. Here in the high desert, they lose their leaves in the winter. So, many rose gardens look better with some other plants growing with the roses. Here are some that work well in the Albuquerque area.
Pansies and Roses
Pansies do extremely well in the high desert of the Southwest, providing color through the fall, then reblooming again in early spring until the temperatures get too hot. By that time, the roses are blooming. Pansies are technically perennials, but are grown as annuals in this region.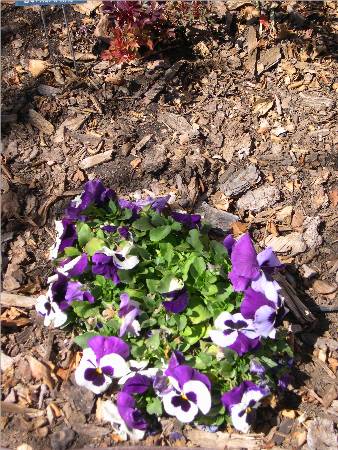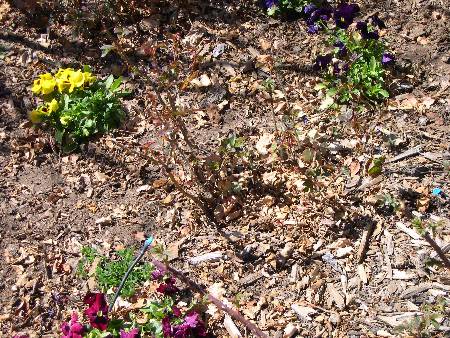 Bulbs and Roses
Spring-flowering bulbs such as crocus, daffodils, and narcissus bloom earlier than roses, and can also add color to the garden long before the roses are ready to bloom. These need to be planted in the fall for spring bloom.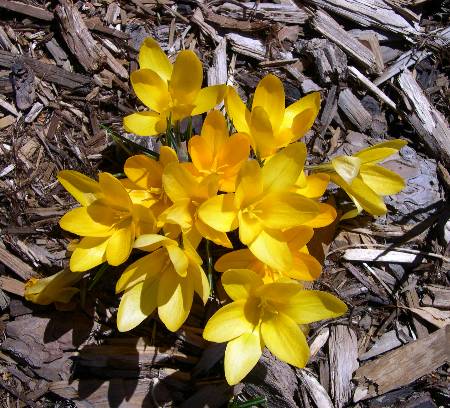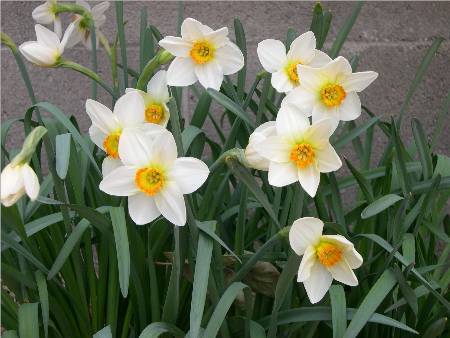 This photo was taken March 14, 2005. The daffodils are blooming, but a late snow is falling. So it goes in the high desert of the Southwest.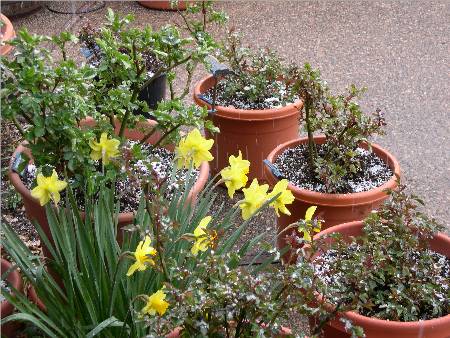 Clematis and Roses
Clematis can be a fabulous companion plant for climbing roses. The rose provides support on which the clematis can climb, and the rose also provides shade for the roots of the clematis. Clematis is picky in that it likes cool roots, with lots of sun on the leaves. Combining clematis with a climbing rose is perfect. My personal favorite is the white clematis, Henryi, because it is tough and the color goes with everything. This is Henryi growing with Mermaid. The clematis blooms several weeks before the rose, and again late in sumer before the rose blooms in the fall. The perfect companion, in my opinion.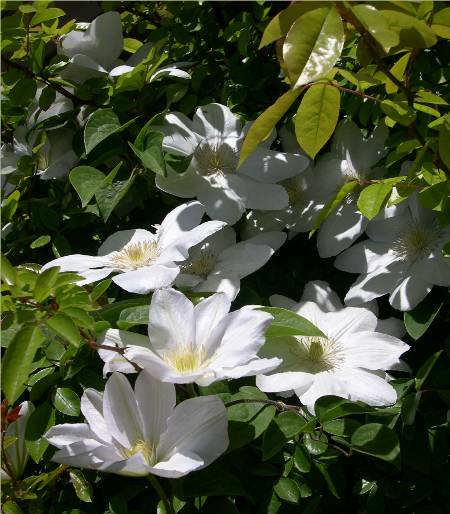 Companion Plants That Bloom at the Same Time as Roses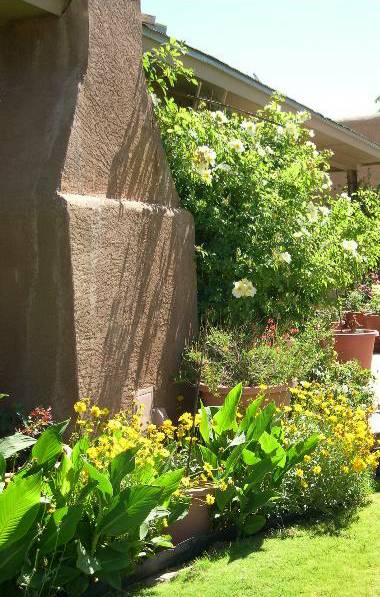 This photo shows Mermaid climbing up the outside wall of the fireplace. At the base in a pot is an Autumn Sage that is just beginning to bloom. These grow extremely well in the high desert, and attract humming birds.
The yellow flowers in front are coreopsis. These flowers grow well and are self-seeding. The only drawback is that you must cut off the old blooms or the plants look really terrible. But if you do keep the old blooms cut, the plant will bloom all summer.
The large green leaves belong to canna lilies, which tend to bloom later in the summer when not much else is blooming. Canna lilies are also great for attracting hummingbirds.
The photo of this hummer was taken at a feeder, but they seem to prefer certain flowers, such as those mentioned above, over the feeders.